Pittsfield, Massachusetts – an arts and culture destination and hub for technology and innovation.
Oct,
12
2017
/ /
by

jaarmstrong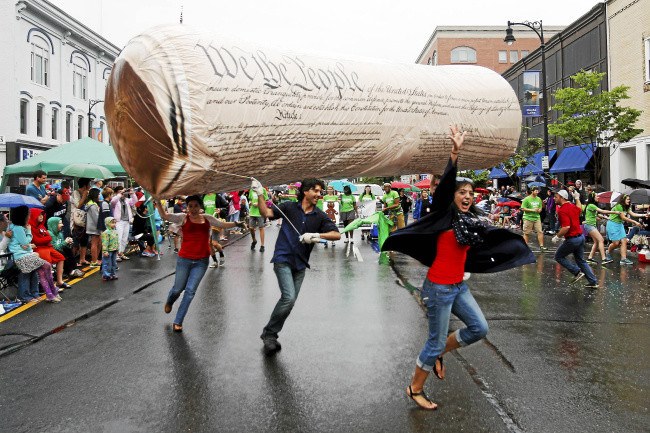 Photo courtesy of City of Pittsfield Office of Cultural Development
Pittsfield is a technology and innovation hub as the headquarters for General Dynamics Mission Systems, Maritime and Strategic Systems line of business. With about 1500 employees in Pittsfield, the company offers the perfect combination of exciting work in systems and products that support our nation's maritime defenses and access to the year 'round recreational activities offered in the Berkshires. Every season of the year, the Berkshires offer hiking, skiing, sledding, trekking, biking and some of the most beautiful scenery in Western Massachusetts. It is a little-known fact that all of the conference rooms at the 100 Plastics Avenue location are named for famous residents and natural attractions in and around Pittsfield and the Berkshires.
General Dynamics is also a partner in the rapidly growing Berkshire Innovation Center or BIC. It offers students, entrepreneurs, inventors and others to innovate, create and grow. By providing advanced capabilities to manufacturers in the Berkshires region - primarily small and medium sized companies (and startups) in life sciences, the life sciences supply chain, advanced manufacturing, and technology. The goal is to enable and accelerate the growth of the manufacturing sector with the ultimate objective of spurring economic growth, job creation and retention, and investment in the region.
Pittsfield is experiencing a super-charged renaissance as a 'top-of-the-list' destination for visitors to the Berkshires. Just 90 minutes south of Albany, New York and a beautiful 136-mile drive from Boston, this city with a population of 43,000 has revitalized itself with multiple theaters, art galleries and an eclectic selection of restaurants in the historic town center called 'North Street'. The Berkshire Museum recently embarked on a new vision as an interdisciplinary Museum where connections among science, history and the arts come together to inspire curiosity and discovery for all visitors.
Each year the town hosts the '10x10' Winter Arts Festival where organizations like the Barrington Stage Theater Company, Beacon Cinema, Berkshire Athenaeum and Historical Society, art association and other cultural and entertainment organizations provide 10-days of interactive arts, culture and fun for the community. The festival brings visitors from throughout the Berkshires and neighboring communities, growing every year.
Autumn in the Berkshires starts in Pittsfield with the annual Pittsfield City Jazz Festival in October. Since it began in 2005, thousands of visitors have heard from such jazz greats as Dave Brubeck, Billy Taylor and features new and up and coming artists. Other popular musicians, including James Taylor have played in Pittsfield, enjoying the 'home town' atmosphere of Pittsfield and its neighbors.
Nearby is the Tanglewood Music Center, the summer home of the Boston Symphony Orchestra. New in 2017, the music center opened its grounds for visitors to leisurely enjoy music and related events including lectures, musical demonstrations, sing-alongs, food and wine tastings. Tanglewood is also hosts a residential education program for middle school students from across Massachusetts to gather and explore music and the arts.
The spirit of culture and the arts runs deep in Pittsfield. It was the hometown for Herman Melville, author of Moby-Dick; poet and educator, Henry Wadsworth Longfellow; artist and sculptor, Nancy Graves; and today, actress Elizabeth Banks and Brian Piccolo (deceased), a former Chicago bear and the subject of the movie Brian's Song, all called Pittsfield home.
***
Pittsfield, MA, ranks #1 on our list of top 10 arts vibrant medium size communities.
General Dynamics Mission Systems is a leading integrator of C4ISR systems for land, sea, air, space and cyber defense. We have an established global presence in secure communications systems, command and control systems, imagery sensors and cyber products.