Visitor-to-Staff Index Overview
Jul,
12
2017
/ /
by

jaarmstrong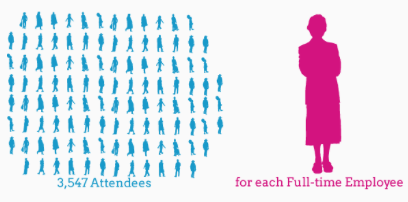 Visitor-to-Staff Index measures an arts organization's staff capacity by examining the ratio of staff to total number of visitors. This view provides a nuanced comparison for arts organizations and allows them to measure their performance against similar organizations. The higher the index, the more people are served per full-time employee.
This report aims to illustrate the integral and delicate relationship between the number of people served and the number of people that serve them:
An increase in full-time employees in the face of declining attendance could raise questions about organizational efficiency, the appropriate staff level needed, and how compensation expenses will be covered.
Too few employees in the face of attendance increases raises questions about staff burnout, which can affect productivity, employee satisfaction, turnover, and overall organizational effectiveness.
Organizations therefore need to balance the desire to serve more people with the ability to support an adequate level of staff to help avoid employee burnout.
On average, the work of one full-time employee supports services provided for 3,547 attendees.
That is the relationship between an overall average of 38,741 attendees and 11 full-time staff members annually.
The relationship between the number of staff and the number of people served varies considerably across sectors, organizational size, and market.
The report found several key trends:
Overall, full-time staff growth was more robust than attendance growth over time. This means that organizational capacity expanded at a slightly faster rate than growth in the number of people served. This does not mean that staffs became bloated. Instead, modest staff expansion can mean that an organization realizes it has maxed out the capacity of its current staff and its ability to provide high-quality offerings and services, and that attracting larger audiences depends on making additional investments in human resources.
Small organizations experienced the biggest decrease in the staffing index. Average attendance was at virtually the same level in 2015 as it was in 2012. Over the same period, the number of full-time staff members increased. While it may not seem as if going from one half-time employee to one three-quarter-time employee would make a big difference, it represents 41% more paid manpower to deliver services to every person who comes. It could be that the staff increase is a move from volunteer to paid labor, with the ultimate goal of an increase in attendance.
In Chicago and in large markets such as Dallas, Phoenix, and Minneapolis, smaller-sized full-time staff consistently serve more people than organizations in other markets. While being lean and effective can be seen as a strength, it can also put an organization at risk of staff burnout and limited bandwidth to seize new opportunities.
For more information on findings by sector, size, and geography, as well as an in-depth look at the trends, please visit www.smu.edu/artsresearch