Expanding options: Exploring Program Revenue per Attendee
Oct,
08
2015
/ /
by

nrallo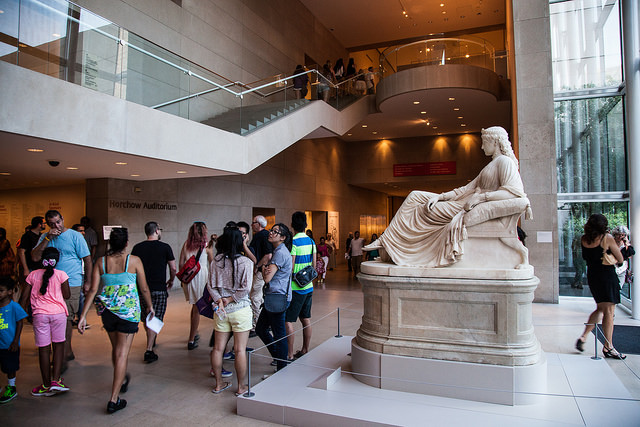 There is a conversation growing nationally around data-informed decision-making in arts and cultural organizations. The National Center for Arts Research (NCAR) stands firmly in the belief that using data to inform managerial decisions is a critical factor in the sustainability and transformation of the arts and cultural field as a whole. It isn't about data for the sake of data, it's about the end-goal of healthier organizations that have stable and expanded resources to dedicate to pursuit of mission. TRG, one of NCAR's partners, has been a leading advocate for this type of analysis for many years and the organizations TRG serves have benefitted as a result.
There is no "one size fits all" performance measure. Instead, metrics for organizational health are as varied as the field itself. So this begs the question: What are the metrics that matter?
The answer is: It depends. What do you want to know? What is your vantage point? What questions are you seeking to answer? What information will best inform your next actionable step? Scoring high when benchmarking may indicate that you are achieving your objectives, or you may WANT a low score on some measures given organizational priorities. The important thing is to know where you stand so you can assess whether you're where you want to be.
In consultation with industry leaders across the country, NCAR identified 184 ways (!) that people measure the health of their organizations. In our NCAR reports we focus on a subset of 27, which fall into 9 general areas: Contributed Revenue, Earned Revenue, Expenses, Marketing Impact, Bottom Line, Balance Sheet, Community Engagement, Program Activity, and Staffing. These measures – or 'indices' – provide a menu that allows people to hone in on areas that interest them most.
One key area of earned revenue to examine is the revenue generated from patrons. TRG recommends examining per-capita ticket revenue – measured as total ticket sales revenue divided by total ticket unit sales – and does a thorough job of communicating its importance in this blog post. This measure is a close relative to one of NCAR's 3 earned revenue indices, the calculation of program revenue per attendee. We define program revenue as revenue from ALL activity earned by the organization in return for its provision of mission-related products or services that generate attendance or engage people as participants. In other words, we include all ticket sales revenue plus all revenue an organization earned because someone walked through its doors, so add in gift shop and concession sales, tuition for classes offered, etc. In 2013, the average arts and cultural organization earned an average of $19.32 per person who participated in the organization's program offerings.
However, the findings vary widely by sector: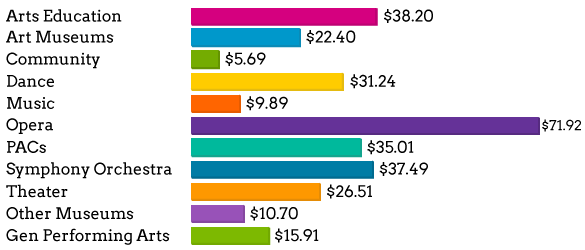 At $71.92, program revenue per attendee was nearly twice the level at Opera companies than for the next highest sectors, Arts Education and Symphony Orchestras. The lowest average program revenue per attendee, $5.69, was reported by Community organizations, which may offer most programming free of charge or for a nominal fee. Music organizations were not far behind at $9.89. Despite changes within each sector over time, program revenue per attendee for each sector was in the same position relative to other sectors in 2013 as it was in 2010.
In addition, there are differences that manifest as a result not only of an organization's sector but also its size. Large organizations' program revenue per attendee is highest in every sector. In the Music sector, Small organizations tripled their level of average attendance over time while growth in program revenue lagged inflation by 11.5%. This pattern is commensurate with a strategy of increasing attendance by lowering program revenue through pricing. It will be interesting to see whether growth in contributions was robust enough for Small Music organizations to make up the revenue difference.
Per capita ticket revenue and program revenue per attendee offer different vantage points. If an organization is looking to optimize ticket sales and balance pricing with demand, calculating per capita is a critical measurement. By broadening our program revenue calculation to include ALL revenue an organization earns by having someone walk through the door, organizations have the opportunity to think about optimizing ancillary ways to earn revenue.
The question then becomes: If I want to grow program revenue, what are my options?
It could be as simple as adjusting ticket prices to be more in balance with demand. However, different sectors manage their options differently. For example, Art Museums earn more from gift shop and restaurant revenue than theaters yet the two sectors earn similar levels of overall program revenue per attendee.
Another critical angle to explore with respect to program revenue pie is to compare the total market dollars spent per attendee and the total program revenue earned per attendee – in other words, what it cost on average in marketing to attract someone to come, and the average amount that person spends with the organization once they're there. The differences by organizational size are quite dramatic.
As arts organization go from Small to Medium to Large, the average program revenue they earn per attendee increases exponentially while their marketing expenses per attendee increase to a far lesser extent. In addition Small organizations tend to spend only 5% of their total marketing expenses on personnel while Medium organizations average 21% and Large organizations 29%. These findings suggest that perhaps the increased investment in skilled marketing staff is a key element to growth in program revenue.
Another way to slice it: Don't expect higher program revenue if you don't invest in marketing.
We encourage all those working in arts and cultural organizations to visit the NCAR website to engage with the trends of your organization's sector and size. On the site's Methodology section we share the line items used in each index so you can do your own calculations. These findings can help you determine if you are right on target or if there are areas where increased investment and new strategies may be necessary to reach your program revenue goals.
------------------------------------------------------------------------------
Zannie Giraud Voss Ph.D., (IAE Graduate School of Management, Aix-en-Provence, France) is Chair and Professor of Arts Management and Arts Entrepreneurship in the Meadows School of the Arts and the Cox School of Business at Southern Methodist University; Director of the National Center for Arts Research; and an Affiliate Professor at Kedge School of Business in Marseille, France. Prior to joining the SMU faculty, she was a professor in the Department of Theater Studies and an adjunct professor in management in the Fuqua School of Business at Duke University, where she also served as producing director of Theater Previews at Duke, a professional theater company dedicated to the development and co-production of new works.
Dr. Voss has a worked as consultant on projects for the Irvine Foundation, Theatre Development Fund and Theatre Communications Group, co-authoring TCG's Theatre Facts since 1998. She has published articles examining the strategic factors that influence organizational performance in nonprofit professional theatres in the Journal of Marketing, Journal of Marketing Research, Academy of Management Journal, Organization Science, Journal of Services Marketing, American Theatre, ArtsReach, and International Journal of Arts Management, for which she served as an associate editor. She served as managing director of PlayMakers Repertory Company; associate manager of the Alley Theatre; assistant director of audience development at the Mark Taper Forum; and as a site visitor and panelist for the National Endowment for the Arts. She has received research funding from the National Science Foundation, the Aspen Institute, the Marketing Science Foundation, the American Marketing Association and the Sheth Foundation.
She is a member of the International Association of Arts and Cultural Management (AIMAC), the Executive Committee of the Board of Trustees of Big Thought, and the Board of Directors of the Cultural Data Project. She serves as Vice Chair of Programs on the Board of Trustees of TACA and is co-author of the book Outrageous Fortune: The Life and Times of the New American Play, published by Theatre Development Fund.