Arts Flourish in Flint
Oct,
10
2017
/ /
by

jaarmstrong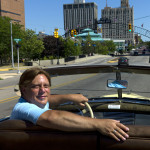 Guest post by Greg Fiedler, President and CEO, Greater Flint Arts Council
One of the world's largest corporations, General Motors (GM), was founded in Flint, Michigan in 1908. The founders of General Motors and many of the families whose businesses flourished in Flint due to the success of GM were very supportive of the arts and education. They also left foundations to secure their interests indefinitely. Following this tradition, the prominent families of Flint continue to support the arts. This is the main reason the arts flourish in Flint. We have organizations and facilities most communities our size cannot afford. Flint is also the birthplace of the community education model forged by School Superintendent Frank Manley and General Motors Co-founder, Charles Stewart Mott in 1936. The rich art and music programs offered in Flint Community Schools from the 1930's through the 1970's contributed greatly to the number of accomplished artists and musicians still living in the area today. This is supported by strong continuing education programs at the University of Michigan-Flint and Mott Community College.
Genesee County has both strong established and grass roots art scenes. The established art and cultural institutions are housed in a campus on Flint's East Side designated as the Flint Cultural Center. This campus includes Flint Public Library, Flint Community Schools Administration, Flint Institute of Music, Flint Institute of Art, Sloan Museum, Buick Gallery, The Whiting Theatre, Bower Theatre, Ann Elgood Theatre, Longway Planetarium and Applewood, the Estate of the late Charles Stewart Mott.
The grass roots arts scene is centered in downtown Flint and many of the small communities throughout Genesee County. Anchors include Greater Flint Arts Council, Flint Public Art Project, Buckham Gallery, MW Gallery, The Creative Alliance, Club 432, First Presbyterian Church of Flint, St. Paul's Episcopal Church, St. Matthew Roman Catholic Church, Court Street Methodist Church, Grand Blanc Arts Council, Swartz Creek Art Center, Fenton Area Arts Council, Clio Area Art Center, many community theatres and branches of local governments.
Greater Flint Arts Council operates the community arts and cultural website for Genesee County at www.geneseefun.com. This site contains evidence of an active arts/cultural community with more than 200 producers offering more than 2,000 events annually.
Check out the arts vibrancy of Genesee County on the NCAR Arts Vibrancy Heat Map!
***
Greg Fiedler, President and CEO, is celebrating his 25th year at Greater Flint Arts Council. Greg has 39 years of experience in corporate management and administration, 31 years of experience in non-profit board management, and has been a performing artist for 52 years. He has raised funds for more than four dozen non-profit organizations. Greg is very excited to be leading Greater Flint Arts Council through their 50th Anniversary year which begins October 11, 2017. Under his watch, GFAC has developed an abandoned building to become their permanent home, established an endowment and created new programs including ARTWALK, Tunes At Noon, Flint Festival of Quilts, Parade of Festivals, Arts Incubator, JAZZNITE and Public Art Commissioning Program (over 200 works commissioned throughout Genesee County). He attended the University of Michigan-Ann Arbor 1974-78, where he completed a BA with a major concentration in Psychology and minor concentrations in Theater (Professional Theater Program) and Sociology. Greg is deeply devoted to the City of Flint and Genesee County, where he has lived all his life.